Description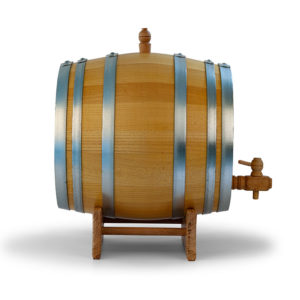 We provide a replacement guarantee!
IN THE CASE OF THE 20L BARREL, WE CAN ONLY TAKE THE ORDER WITH AN ADVANCE PAYMENT!
It is made by hand in a family manufactory by master coopers with 56 years of experience!
WHY WE CARRY OUR AGEING BRANDYCHOOSE OUR:
56 years of professional experience with experience let's make our barrels!
Carefully selected qualitative we use raw materials!
Just the right one drying out after that we start making the barrel!
These barrels know the function of aging brandy!!!
After completion, the barrels let's pressure test!
It's a really qualitative a gift for any occasion!
In general, the juicier fruit spirits, e.g. william pear or apricot brandies are added. Mulberry is one of the most valuable wood materials suitable for making barrels, and it gives extraordinary harmony to the brandy filled in it. Pálinka loses its alcohol content, but its taste also loses its sharpness. The brandy stored in mulberry barrels is golden and crystal clear.
The mulberry gives the drink a yellow color and a soft taste!
They are made with medium toasting (medium)
Two end plates are poured with beeswax paraffin, in order to minimize liquid loss, the brandy does not evaporate.
The picture is not an illustration, the barrels actually look like this!
.
Due to the size and weight of the barrel, the shipping cost: HUF 3,500.