Description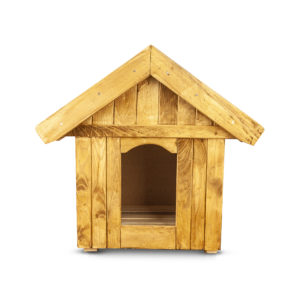 OUR CARPENTERS MAKE THESE DOG HOUSES WITH GREAT ATTENTION FOR OUR DEAR BUYERS!
WHY WE CAN PROVIDE A 1 YEAR WARRANTY:
Carpenters product made by!
Extra solid!
The side of the doghouse 2 cm hardwood  let's make it!
Thanks to its solid wooden frame, it is very durable!
Bottom of the doghouse 6 cmis raised from the ground!
Its design is completely designed for outdoor use!
It has a double top between which there is foil insulation!
Delivered assembled!
1 year with warranty, invoice!
Sizes:
External dimensions: 70 cm wide, 80 cm long, 90 cm high.
Internal dimensions: 65 cm wide, 75 cm long, 85 cm high.
Doghouse treated with lacquer paint!
Large doghouse e.g.: recommended for Rottweiler, Bernese Mountain Dog, Dobermann, Husky, Malamute, Boxer, Husky, German Shepherd, dog breeds! 
Dog house size and weight (50 kg) resulting in the shipping cost: HUF 5,000